​ Unity San Diego has a lot going on!
*  *  *  *  *
Click HERE for a Downloadable PDF of March/April 2023 Events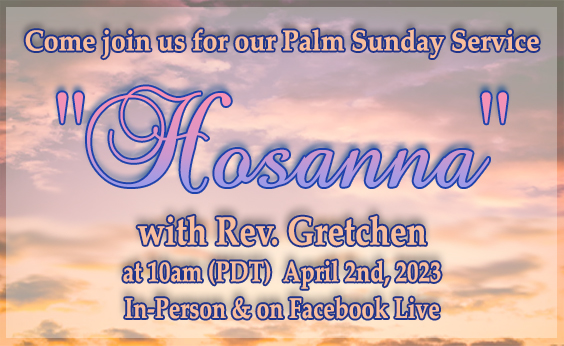 Arts & Crafts Sale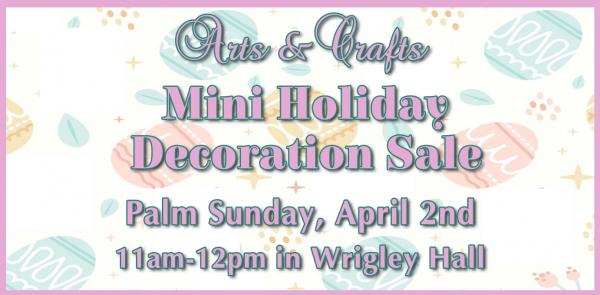 Palm Sunday, April 2nd from 11am-12pm 
in Wrigley Hall
Good Friday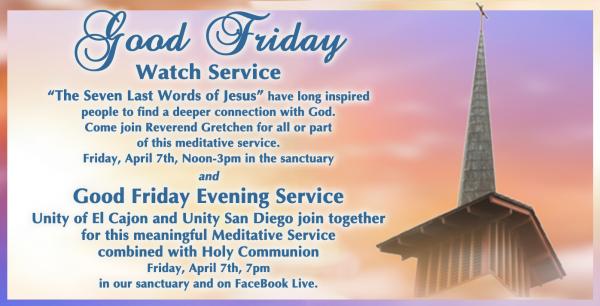 Watch Service
Friday, April 7th, Noon-3pm (PDT)
"The Seven Last Words of Jesus" have long inspired people to find a deeper connection with God.
Come join Reverend Gretchen for all or part
of this meditative service.
Good Friday Evening Service
Friday, April 7th, 7pm (PDT)
Unity of El Cajon will join Unity San Diego

in our sanctuary
for a meaningful meditative service combined with Holy Communion.

 
Easter Sunday
Easter is on Sunday, April 9th and will be a morning full of inspirational music and ceremony as Rev. Karla speaks about "Embracing the Vision".
 To experience this to the fullest, we invite all of you to attend our Easter Service in person if at all possible.
We are looking forward to sharing this holy season with you!
Easter Egg Hunt on Easter Sunday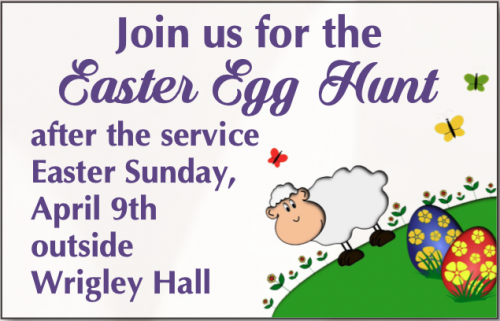 Join us for some Easter fun this Easter Sunday as
we have our annual Easter Egg Hunt outside Wrigley Hall
right after the morning service. 
Ladies Tea - Tickets Now on Sale
Annual Ladies Tea at Unity San Diego Tickets Now on sale
$20 for Adults and $10 for Children under 12 years of age
The Tea is on Saturday, April 29th, 2023
from 1-3:30pm in Wrigley Hall 
The Menu:  Scones, lemon curd, a sweet and a savory will be provided.
More info to come following the Organzational Meeting on March 19th.
If you want to pay for your tickets with Venmo
contact Marty Ellingwood directly.
Contact Marty at soulsistersusd@gmail.com or call (619) 398-7531 for more information.
Would you like to Hostess a table at our Ladies' Tea?
Contact Rev. Karla at soulsistersusd@gmail.com.
Now Collecting Auction Items for Tea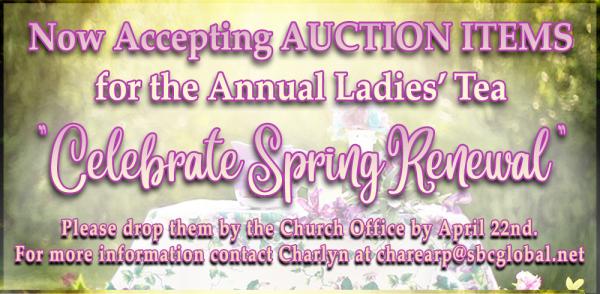 Now Collecting Auction Items for the Annual Ladies' Tea


Please drop them by the church office by April 22nd. 
For more information contact Charlyn at charearp@sbcglobal.net
or the church office at (619) 280-2501.
Small Groups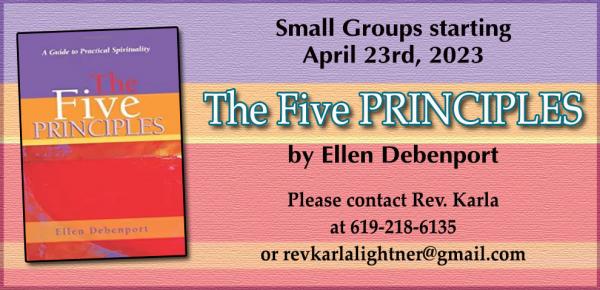 Small Group meetings for "The Five Principles"
First meeting with Rev. Gretchen  on Sunday, April 23rd at 11:30am on the 3rd floor of the Tower. 
If you would like to hold a small group in your home or on Zoom,
please contact Rev. Karla at 619-218-6135 or revkarlalightner@gmail.com.
Unity San Diego's Spanish Speaking Ministry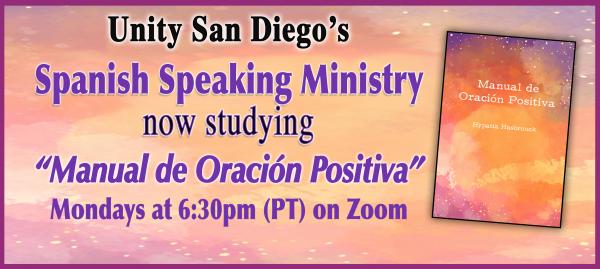 Unity San Diego's Spanish Speaking Ministry 
Ministerio de Grupos en Español
is now studying the book "Manual de Oración Positiva" 
on Mondays on Zoom at 6:30pm (PT)
Hypatia Hasbrouck teaches how to pray. "Manual de Oración Positiva" ("Handbook of Positive Prayer") is full of exercises, tools, specific steps, and practices to use in creating your personal prayer life. The author even explains the meaning of Affirmative Prayer and why we use the word "Amen." 
For more information email unitysdespanol@gmail.com.
Everlasting Serenity Spiritual
Recovery Ministry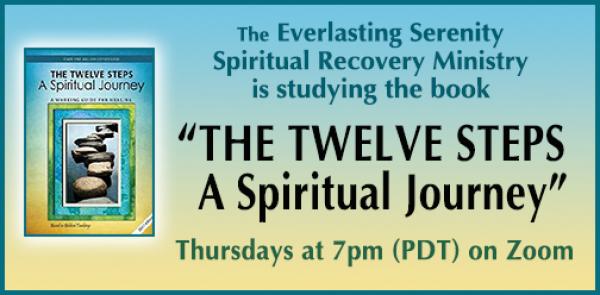 The Recovery Ministry is now studying "The Twelve Steps A Spiritual Journey - A Working Guide for Healing Based on Biblical Teachings."
This book was written by people who have experienced the healing love of God and the transforming power of the Twelve Steps.
Using Biblical Principles, Twelve-Step wisdom and the power of self-disclosure this workbook will serve as a roadmap on our journey toward lasting change and healing.
For thirty weeks, we will work together melding spirituality and step work as we deepen our recovery and our relationship with the God of our understanding.
Please join us on Thursdays at 7pm (PT) on Zoom. While this ministry is primarily for those who are in recovery and families whose lives have been touched by addiction, you do not have to be in recovery to be a part of The Everlasting Serenity Spiritual Recovery Ministry.
Please contact Rev. Karla Lightner for more information at (619) 218-6135
or at revkarlalightner@gmail.com.
Healing Services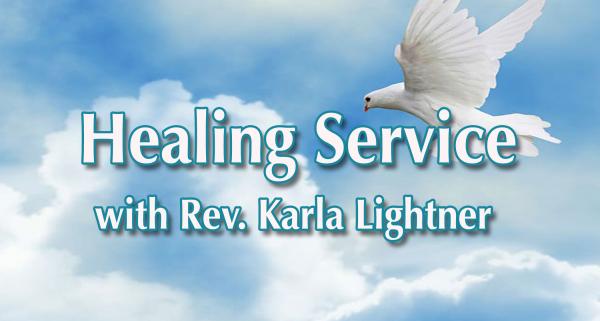 Sunday, April 23rd at 12 noon (PDT)
 BOTH in-person in St. Luke's Chapel AND on Zoom
The powerful activity of God's healing power is available to us
when we are in conscious connection with Spirit.
Please join us, as we go within to access the healing power
that already exists in each and every one of us.
Love offerings are graciously accepted.
For more information, contact Rev. Karla at (619)501-6551
or revkarlalightner@gmail.com.
Drumming Circle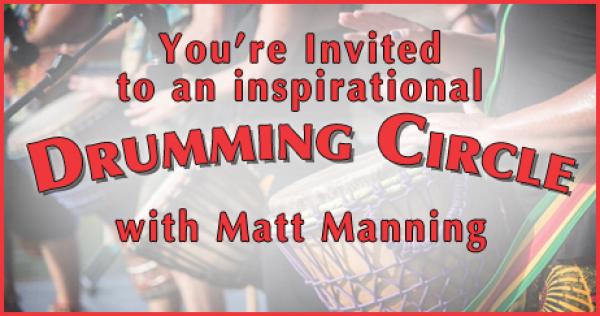 Drumming Circle with Matt Manning 
on the second Sunday of the month  
(except for April because of Easter)
in Wrigley Hall at 12 noon. 
The next one will be in May.
Matt has held drumming circles at many Unity churches, Unity SW Regional Uniteen Retreats, Kids Camp and YOU Events.
Love offerings graciously accepted.
For more information please contact Rev. Karla at revkarlalightner@gmail.com or 619-218-6135
Prayer Meditation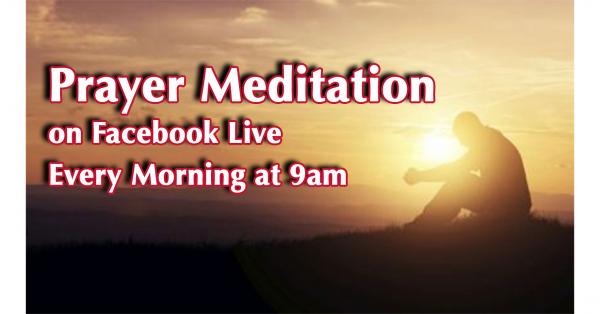 Daily Prayer Meditation on Facebook Live
Every Morning at 9am
Join us for morning Prayer Meditation on Facebook Live,
Monday thru Friday mornings at 9am (PT).
A great way to start your day! And all our meditations are saved on our YouTube page, for later listening to,
or re-listening to your favorites.
2nd Wednesday Guided Meditation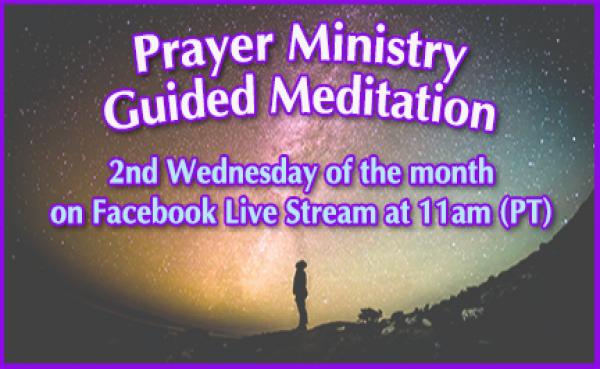 Join us at our Second Wednesday Prayer Ministry Guided Meditation 
at 11am (PT) on Facebook Live.
We bless you and hold the high watch for you in all your needs.
https://www.facebook.com/unitysandiego
Prayer Ministry: (619)282-7609              PrayerMinistry@UnitySanDiego.org
Sunday Services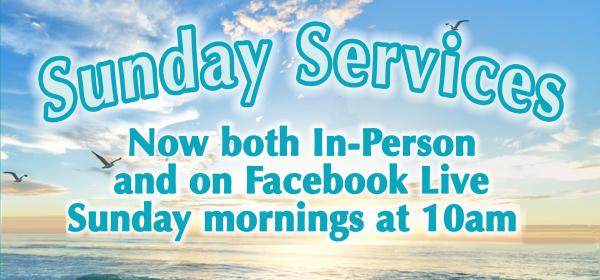 In-Person and on Facebook Live Sunday mornings at 10am (PT)
Join us In-Person at the church for Sunday morning service followed by fellowship in Wrigley Hall and the courtyard; or join us by watching our Facebook Live Sunday Services on our Facebook page; or watch our archived services on our YouTube channel.
While it is wonderful to be in person again, there are some guidelines we must follow. Please ask others before hugging or touching.
We know as more people become vaccinated that these guidelines will change and more people will be able to attend our services. We will keep you posted with all updates and look forward to seeing you soon.
More information will be posted in our weekly e-News.
If you know anyone who might not be receiving this information, please contact us.
Sunday services at Unity San Diego will leave you feeling inspired, blessed, and ready to experience the fullness of life from an empowered perspective.
Each Sunday service includes:
Heart-felt and positive music
A message that speaks to your heart and mind
Meditation to soothe the soul
Prayer to uplift your consciousness
The vibrancy of an engaged spiritual community.
A Course in Miracles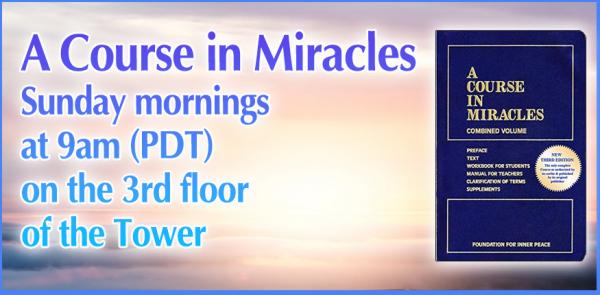 A Course in Miracles study group
Sundays at 9am on the 3rd floor, in the Tower.
You are invited to join like-minded new and perhaps old friends as we each climb our spiritual ladder of love, peace and joy utilizing "A Course in Miracles" as one of our spiritual guides.
A Course in Miracles is a complete self-study spiritual thought system. As a three-volume curriculum consisting of a Text, Workbook for Students, and Manual for Teachers, it teaches that the way to universal love and peace—or remembering God—is by undoing guilt through forgiving others. The Course thus focuses on the healing of relationships and making them holy.
Contact us here: https://unitysandiego.org/contact-us
Youth Family Ministry
---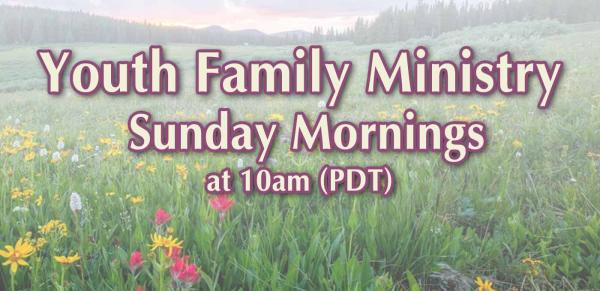 Sunday Mornings Classes at 10am (PT)
now on the 2nd floor of the Tower in the new YFM "Clubhouse"
Teaching our young people about service, compassion, empathy and love is in alignment with our Unity principles. We look forward to an exciting activities and lessons.
The UniTeen/YOU Thursday game night once/week will continue on Zoom until young people decide they no longer want to participate.
Contact Lauren, our YFM Director at yfmunity@gmail.com for more information.
More about our Youth & Family Ministry here.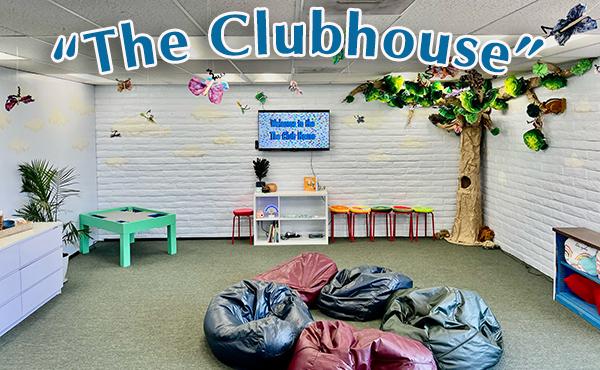 New Membership at Unity San Diego

If you are interested in becoming a member of our fabulous spiritual community, please sign up on the sheet in the narthex. Rev. Karla will contact you to schedule a short class on "What is Unity and where is Unity Village".
Benefits of Membership- Discovering our Spiritual Family
1. Purposeful living - Live your purpose. Unity, Oneness, God of your own understanding.
2. A group to do life with during difficult times (Support)
3. Add value to congregation with talents and skills
4. Belonging – acceptance - place that accepts you wherever you – Community
5. A place where your individual talents will valued and treasured                                            
6. Discover more spiritual truths individually with the God of your own understanding
7. Vote for board members
8. Own personal chaplain
We are a family here at Unity San Diego and we are looking to be in relationship with people who desire to have a personal experiential relationship with the God of their understanding.
For more information contact Rev. Karla at revkarlalightner@gmail.com or 619-218-6135.
Contact us at the church office for more information at 619-280-2501, ext. 102 or at https://unitysandiego.org/contact-us